Roller Derby Books
Roller Derby Videos
---
2003 Berlin Marathon is Almost Full
Skater Registration Will Sell Out by May
See Also
2004 Berlin Marthon - Results and Reports
2003 Berlin Marthon - Results and Reports
Guide to Skating in Germany
Up to 12,000 skaters will participate in the Berlin Inline Marathon on Saturday, September 27. In 2003, for the first time, the skating and running events will take place on two separate days.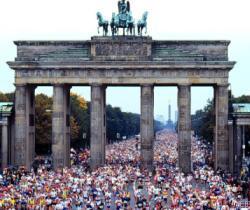 The Brandenberg Gate in Berlin


Online registration for THE 2003 Berlin Inline Marathon opened on January 1 and the first skater registered only six minutes after registration began. Within a few hours more than 300 skaters had signed up to participate.

Largest Inline Marathon in the World
The Berlin Marathon is the largest inline marathon in the world, with more than 8,000 skaters participating in 2002. It is also one of the most important Grand Prix Marathons on the World Inline Cup Tour.

12,000 Skaters in 2003
Because this race is so popular, and because maximum registration is always reached many months before the event, the organizers have made several changes in 2003. The most significant change is that the event will be held on a separate day from the running marathon in order to allow up to 12,000 skaters to partipate.

Register Now - Event is Almost Full!
If you plan to attend the 2003 Berlin Inline Marathon you need to register NOW because I recently heard that even though the event is not until September, by April 1 it was almost completely filled up - out of 12000 spots only about 1200 were left, and this is 6 months before the race!

How to Register
Mail-In Registration Form (PDF)
Online Registration at Devango.com


---

Berlin Marathon Web Site
In German: Home Page - Skate Page
In English: Home Page - Skate Page
---
Visit Our 12 Skating Forums

Forums for discussing aggressive, artistic, beginning, hockey, fitness, recreational, roller basketball, roller derby, roller dancing, rollersoccer, quad skating, slalom skating, and speed skating.
---
Related Links
2004 Berlin Inline Marathon (Report)
2003 Berlin Inline Marathon (Report)
2002 Berlin Inline Marathon (Report)
Skating in Germany
Skating in Europe
Inline Marathons Around the World