Roller Derby Books
Roller Derby Videos
---
An Introduction to Skating in Russia
Skating in Moscow
by Kathie Fry
Dimochka and Vladimir of Moscow with Oleg Vigodsky of
St. Petersburg Outside of Red Square and the Kremlin
Copyright © John Carnello


[More Photos of Skating in Moscow]


Skating in Moscow is a real treat because of the city's many historic sights, beautiful parks, and incredibly smooth, wide sidewalks. You are welcome to skate in the street almost anywhere in Moscow, but the sidewalks in that city are such a skater's dream, you will find yourself doing most of your city skating on sidewalks instead of in the street. Moscow is rather hilly, so you will probably want to attach a brake to your skates unless you are a true expert at stopping without one. Most Russian skaters do not use a brake, but I would never skate in Moscow without one.

In central Moscow you can skate past all the famous places you have read about, including Red Square, the Kremlin, the Bolshoi Theater, Pushkin Square, the Arbat shopping district, GUM Department Store and many other well-known and historic places. I found out that you can't really skate IN Moscow's Red Square (unless you enjoy skating on serious cobblestones) but you can skate all around both Red Square and the Kremlin.

If you are looking for other skaters, the best places to find them are in Gorky Park, Victory Park, and the park adjacent to the Exhibition of Economic Achievements. Another great place to skate is in the hills around Moscow University. If you take the subway up to that area you can skate on a gentle downhill slope for blocks and blocks on one of Moscow's typical ultra-smooth, ultra-wide sidewalks. Be sure to stop at the lookout across from the University to see a beautiful panoramic view of Moscow.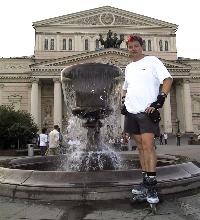 John Carnello of Melbourne, Australia
in front of the Bolshoi Theater in Moscow
Photographer:Dimochka of Roller.ru / © John Carnello


Part 3: Skating in St. Petersburg -->
---
More of This Article
---
Related Links
Skating in Russia - Main Menu
Skating in 100 Countries
Translate Any Web Site or Phrase
---
Skating in Africa | Skating in Asia | Skating in Europe | Skating in Oceania | Skating in The Americas
Inline Skate Shop
Roller Skate Shop