Roller Derby Books
Roller Derby Videos
---
Skating With Balls in London
London Rollersoccer Kicks Off March 15, 2003

Beginning in March of 2003, inline skaters in London, England will have an opportunity to participate in a hot new sport that is becoming popular all over the world. R0LLERSOCCER is the sport of soccer played on inline skates, and it was founded in 1995 by current Rollersoccer Federation President Zack Phillips of San Francisco.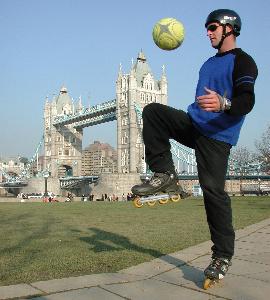 A series of pickup rollersoccer events are being organized and coordinated by London skating instructor Andreas Kolattek of the Citiskate Inline Skating School. The kickoff game will take place on Saturday, March 15, 2003 from 12 noon until 2 pm (12:00 - 14:00). Skaters with all levels of availability are encouraged to participate, and both male and female skaters are welcome to join the game.
KICK-OFF DATE: Saturday, March 15, 2003
TIME: 12 noon - 2 p.m. (12:00 - 14:00)
FACILITY: Queen Mother Sports Centre
LOCATION: 223 Vauxhall Bridge Road
COST TO PARTICIPATE: £7.50
WEB SITE: Official Announcement CitiSkate.com
For more information send email to kolattek@yahoo.com or connect to the Roller Soccer Announcement at CitiSkate.com. (select the red letters near the top of the page to learn more about the event).


---

Related Links
Citiskate Rollersoccer Announcement
Citiskate Inline Skating School
Rollersoccer International Federation
Zack Phillips Home Page ZackBall.com
Inline Skate Shop
Roller Skate Shop