Roller Derby Books
Roller Derby Videos
---
2005 Inline Downhill Series Season Opener
January 16, 2005 in Southern California
A report on the season opener for the California Gravity Sports Series, which took place in San Dimas, Southern California on Sunday, January 16, 2005. Report is by George Merkert, who was the United States Inline Downhill Champion in 2001, 2002, and 2004.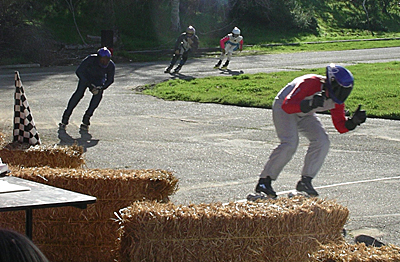 Photo reprinted with permission from © Kay B. Focke
Tim Huber gives thumbs up as he crosses the finish line at Bonelli Park in San Dimas to win the first race of the 2005 California Championship Gravity Racing Series.
---



2005 INLINE DOWNHILL SEASON KICKS OFF IN SAN DIMAS

by George Merkert


The half mile inline downhill course on the outskirts of Bonelli Park in San Dimas was full of challenges we racers didn't expect. The speeds were higher, up to about 41 or 42mph, the turns were tighter and the long flat leading to the final turn and the finish line required a judgment call as to whether it was more effective to push or tuck.

It was a four turn course. Turn 1, 90 degrees right, occurred about 25 yards out of the start. After a 1/4 mile straight, Turns 2 and 3 nearly made one continuous turn since the second of the two 90 degree turns followed the first one so closely. Turn four came a few yards before the finish line. Deciding whether to crossover or glide around this final turn was always a difficult judgment.

In the end the best pusher won the race. Tim Huber was the fastest qualifier and the winner of the race. Scott Peer used his fine turning and drafting skills to roll into second and Robbeaux Wurgaft was third. This is Robbeaux's first appearance on a podium in some time and capped a solid, hard rolling effort. Warren Focke, after winning his semifinal heat continued his wondrous comeback from serious injury to finish fourth in the final.

Tim used his superior turning ability to good effect in the semifinal heat. He slingshotted off of George Merkert into Turn 2 of the four turn course. Rarely does anyone slingshot to gain speed as they enter a turn.

In the final heat Tim went out hard from the start, dared anyone to chase him down...and no one, excepting Scott Peer, came close. It was Tim's first win in inline dh racing.

Beth Hanson finished her first race in fine fettle. In the consolation heat Keri Tishner and Frank Boyd duelled one another spectacularly down the flat to the finish with Frank prevailing.

Mark Henley, showing seriously improved starting skill, skated well in his semis and consolation final heats. Paul Epstein made a terrific showing in his first race ever. He challenged for the lead in every heat he skated. He finished in second place in the semifinal but got tangled up with George Merkert inches in before crossing the finish line. George crashed hard onto the asphalt and into the hay bales in front of the timing tent. The race officials ruled it a push which cost Paul a place in the heat.

It was a tough day for the heavyweights. Dave Lambert, current IGSA World Cup Champion and George Merkert, current US National Champion bumped one another hard in Turn 3 of the consolation final which threw Dave out of his line and robbed him of substantial speed. After the official ruled that George had interfered with Dave, George dropped from first to third in the heat, Dave moved up to second and Paul moved up to first in the consolation final.

Including his fall in qualifying George tallied two spills on the day. Asked how he felt after getting thrashed by asphalt twice in the space of 2 hours George replied, "I am beat, man, I am like...beat."

Marcus Rietema and Bob Ozman of International Gravity Sports Association ran the event with their usual high level of expertise. The race was the first in IGSA's 2005 California Championship Series and included racing for skateboards, street luges, buttboards and gravity bikes in addition to inline.

Author George Merkert
Talk About Downhill Skating in Our Forum
---
Related Links
2005 California Gravity Racing Series
Bio and Photo of George Merkert
Downhill Inline Skating
Skating in 100 Countries
---
Skating in Africa | Skating in Asia | Skating in Europe | Skating in Oceania | Skating in The Americas
Inline Skate Shop
Roller Skate Shop