Roller Derby Books
Roller Derby Videos
---
Movie: The Ice Princess
Staring Katarina Witt as Cinderella
Winstar Home Entertainment made a movie called "The Ice Princess" in either 1995 or 1998. It is the story of Cinderella enacted on ice skates and it stars Katarina Witt as the figure skating Cinderella. Note that this is not the same movie or story as the 2005 Ice Princess film made by Disney.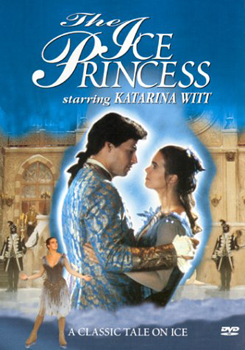 Studio's Movie Description Former Olympic and World Figure Skating Champion Katarina Witt stars in this stunning contemporary interpretation of the classic tale o Cinderella. "The Ice Princess" combines a top quality costume drama an original soundtrack from songwriters Christopher Cross and Curtis Stigers, and world-class ice skating in a family spectacular, which will delight audiences worldwide. Katarina Witt is Ella, a maid in the household of a blind Count. The town is preparing for an ice skating festival to be held at the Prince's palace, and the Count's daughters are determined to capture the prince's heart. Their plan falls apart when the Prince is captivated by the beautiful Ella, who invites the Prince to skate with her. When Ella is thrown into prison, the Prince searches in vain for the beautiful stranger, who finally appears at the ball held at the castle. The pair fall in love and the story ends with a stunning ice dancing display.

More About the Movie
Length: 60 minutes
Director: Danny Houston
Studio: Fox Lorber
DVD Release Date: November 7, 2000

Available at Amazon.com
---
Visit Our 12 Skating Forums

Forums for discussing aggressive, artistic, beginning, hockey, fitness, recreational, roller basketball, roller derby, roller dancing, rollersoccer, quad skating, slalom skating, and speed skating.
---
Related Links:
Ice Princess 2005 Movie (Modern Story)
Ice Princess Dolls
More Ice Figure Skating Movies
All Skating Movies
Figure Skating - Main Menu
---
Skating in Africa | Skating in Asia | Skating in Europe | Skating in Oceania | Skating in The Americas
Inline Skate Shop
Roller Skate Shop