Roller Derby Books
Roller Derby Videos
---
The Aggressives
A Korean Inline Skating Movie by Jeong Jae-Eun
A new aggressive inline skating commercial movie was released in Korea in 2005 and it was written and directed by Jeong Jae-Eun, director of the award-winning "Take Care Of My Cat". "The Aggressives" is targeted to a teen audience and it is the story of a top-rated aggressive inline skater who doesn't mix well with society and how his life interacts with his girlfriend and a quiet well-behaved high school student who discovers inline skating. I met Jeong Jae-Eun in person at the 2004 LG Action Sports Championships in Pomona, California, where some of the scenes in this movie were filmed.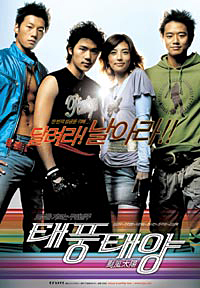 About the Director
Director Jeong Jae-eun was born in 19769 and she studied film an the Korean National University of Arts. She has made many short films including "Coming of Age Ceremony", "After School", and "Girl's Night Out". She won the grand prize at the Seoul Women's Film Festival in 1999 for her movie "Take Care of My Cat".

Movie Reviews on the Web:
Kim Gang-Wu
Cheon Jeong-Myeong
Lee Cheon-Hee
Jo Yi-Jin
On Ju-Wan
Kim Sang-Hyeok

About the Movie
Director and Writer: Jeong Jae-Eun
Production: Film Mania
Distribution: ShowEast
Language: Korean
Country: South Korea
Release Date: June 17, 2005
---
Visit Our 12 Skating Forums

Forums for discussing aggressive, artistic, beginning, hockey, fitness, recreational, roller basketball, roller derby, roller dancing, rollersoccer, quad skating, slalom skating, and speed skating.
---
Related Links:
Inline Skating in the Movies
Aggressive Inline Skating
Skating in Korea
Translate Any Web Site or Phrase
---
Skating in Africa | Skating in Asia | Skating in Europe | Skating in Oceania | Skating in The Americas
Inline Skate Shop
Roller Skate Shop