Hello Everybody! I had a really great time at the Inline Speed Skating World Championships in Venezuela this month. It was an exciting event this year with plenty of drama and controversy. I'm still editing and organizing my photos but they will be posted on my Web site soon, along with links to reports and photos on Web sites all over the world. I'm also working on some interesting (and in some cases unusual) articles I think you will enjoy.
I had a big disappointment this month: I was not able to attend the Aggressive Skating World Championships in Pomona, California because I could not get a press pass! Next year I will be more aggressive (in a nice way) about getting a press pass, and start the process earlier, so I will have more time to convince them that I REALLY AM press.
Newsletter Contents


2004 Stockholm Tunnel Marathon

Join the Stockholm Tunnel Race in October of 2004 and skate, walk, or run through a unique underground experience. This is turning out to be a very popular event. More than 1500 tickets were sold in the first hour and 7000 tickets were sold after only 4 days!
A Dutch Skater in Saudi Arabia and Bahrain
Hans Warburg of the Netherlands travels all over the world as a software consultant, and he brings his skates where ever he goes. In this fascinating article he tells what it's like to skate in Saudi Arabia and Bahrain.
Beautiful Skating T-Shirts by a Canadian Artist

Canadian artist Conny Strub has created a line of T-Shirts printed with images of her most popular paintings of inline skaters. Conny's paintings are beautiful, simple, and perfect from an artistic point of view and her T-Shirts make fun gifts for inline skating friends, family, and business associates.
Remote Control Skating Dolls

Inline skating dolls with movements that can be controlled remotely using a hand-held device. One of these dolls is a skater accompanied by a dog (either a dalmatian or a golden retriever) and one of them - "Radical Rollin' Rachel" - is available in both light and dark skinned versions.
A Note from Kathie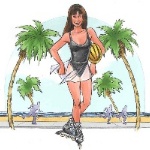 Welcome to the new all dressed up version of the SkateLog Newsletter. Do you like this fancy new format with photos and colors or do you prefer a plain text newsletter? Let me know! Also, a few people have commented that my newsletters tend to be a bit long, so watch for more frequent but shorter newsletters in the future. At least I will really try...

MY EMAIL (UGH): I am receiving a huge avalanche of email every day, and between hundreds of legitimate messages and thousands of spam messages, I have had a big problem staying on top of my email. I am working on several things that will help resolve that problem, so I can stay in touch with my Web site visitors. That is *very* important to me so I will fix the problem for sure, one way or another. I don't want to lose any of my friends in the skating world.

NEXT CHAT: I have to miss the chat this Sunday but starting December 7, I will be in my chat room every week, waiting breathlessly for you to visit.