Hey Everybody!
This week my articles are about skating events in 2004, the Winter X Games, Dutch ice speed skaters, and USA Roller Sports. I also published some new photos of Canadian Roller Girl Lisa Suggitt, who I had the extreme pleasure of meeting in person last month, along with TShirt Babe Conny Strub and several members of the Vancouver Torrents Speed Skating Club (watch for photos of that meeting plus photos from around Vancouver in my next newsletter).
Newsletter Contents


New Calendar - 80 Skating Events in 2004

I spent quite a lot of time this month updating my 2004 event calendar. Please let me know if I left off any of your local events. (The photo on the left was provided by the organizers of the February 2004 President's Day Artistic Invitational in Port Richey, Florida - see "Quick Links" below).
The Winter X Games in Aspen Colorado

Schedule, sports, athletes, TV broadcasts, and other information about the 2004 EXPN Winter X Games January 24 through 27 at Snowmass near Aspen, Colorado.
Gallery of Dutch Ice Speed Skaters

Photos of 12 of the top ice speed skaters in the Netherlands, including Marianne Timmer, Gerard van Velde, Renate Groenewold, Cees Juffermans, Jan Bos, Dennis Kalker, and more.
The 9 Official Regions of USA Roller Sports

There are quite a few USARS regional Web sites on the Internet - some official and some not - so I often get confused when I search for U.S. Federation regional information. To avoid that confusion in the future, I created this index to all of the USARS regional information I have been able to locate on the Web.
A Note from Kathie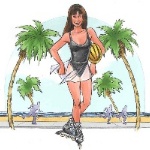 I will be spending most of December packing up my skates, books, and guitars, because I'm MOVING to a new home in January.

The most frequently asked questions about my move are (1) Will I still live in Venice Beach? (2) Am I breaking up with somebody? and (3) Am I getting married? (my answers are YES, NO, and NO WAY). My mailing address will remain the same: PO Box 12320, Venice Beach, California 90295 USA.

CHAT SUNDAY! Join me and other skaters every Sunday in the SkateLog Chat Room from 7-8 pm (19:00-20:00) Pacific Standard Time. If you stop by this Sunday - December 21 - I will tell you why I'm *really* moving, and I'll give you some last minute no-shopping gift ideas for skaters.

IF YOU PREFER A TEXT-ONLY NEWSLETTER, click on the "Update Your Profile" link at the bottom of this newsletter, and you will be connected to a Web page that will let you request text-only (with no photos or colors). IF YOU WANT TO FORWARD THIS NEWSLETTER to a friend, you can use the "Forward Email" link at the bottom of the newsletter.