Hello Everybody - I'm Baaaaaaaaaaaack!
I have a lot of big plans for SkateLog.com in 2004 and one of the first things I am doing is resurrecting my SKATING NEWS WEB LOG and moving it to my home page. This time I am using special software that lets me post tidbits of news on my site quickly and easily from anywhere in the world. I'm looking forward to using this new feature to highlight skating articles and forum posts, and also to tell you about news, events, links, and information sent to me by skaters from all over the world. So even if I have not had a chance to reply to your email, please keep those messages coming because I am going to start highlighting your news, events, links, and articles in my Web log every day.
Newsletter Contents


Results from the Asian X Games

The 2004 Junior and Senior Asian X Games took place this weekend at Toyota Stadium Putra in Kuala Lumpur, Malaysia. Here are complete results from the Junior competition and partial results from the senior event.
New Wall Calendar for Inline Skaters

Two skaters in the United States have produced an inline skating wall calendar that is pre-printed with the dates of more than 100 speed, fitness, and recreational skating events in 2004.
Gary Ryan of Australia (Bio and Photos)

Gary Ryan of the Australian National Inline Speed Skating Team is most well-known for coaching and managing Team Verducci International, his impressive skating career, posing for a nude photo at the 2000 speed worlds in Colombia, and marrying 25-time world champion Theresa Cliff (now Theresa Cliff Ryan).(
Skater Dies After Falling in Front of a Truck
A tragic accident occurred last week in Tampa, Florida, when a skater fell while attempting to cross a busy highway. The teenage girl's two skating companions confirmed that they had all been drinking earlier that evening.
A Note from Kathie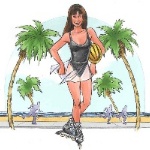 Quite a few of you have asked why SkateLog.com has been so quiet in the last few weeks and why my chat sessions and email replies have been sporadic at best. I've been moving to a new home and I have had BIG problems getting a fast Internet connection installed and stabilized. Everything is pretty much back to normal now, so I am looking forward to getting things rolling again at SkateLog.com

CHAT SUNDAY! Join me and other skaters every Sunday in the SkateLog Chat Room from 7-8 pm (19:00-20:00) Pacific Standard Time.

IF YOU PREFER A TEXT-ONLY NEWSLETTER, click on the "Update Your Profile" link at the bottom of this newsletter, and you will be connected to a Web page that will let you request text-only (with no photos or colors).

IF YOU WANT TO FORWARD THIS NEWSLETTER TO A FRIEND, you can use the "Forward Email" link at the bottom of the newsletter.