Hello Skaters!
I spent the last week at a SearchEngineWatch.com conference in New York City (highly recommended to webmasters) but I still found time to produce a few new articles. Topics this week are the 2004 Speed Worlds, Fabiola Da Silva of Brazil, 3 new skating t-shirts, and the International Roller Sports Federation.
Newsletter Contents


Travel Planner for the 2004 Speed Worlds

The 2004 Inline Speed Skating World Championships will take place in the Abruzzo region of Italy September 2-11. The actual competition will run from September 3 through September 11 with no events scheduled on September 7. There will also be an International Conference on August 28 and since I don't know what that event is I am trying to find out more about it. Here is the information I have collected so far to help competitors and spectators plan their trips.
Fabiola Goes to Hollywood!

X Games aggressive inline champion Fabiola da Silva of Brazil, one of the most famous and recognized female athletes in the world, will star in a new Warner Brothers movie called "Slammin", which is scheduled to begin filming in the summer of 2005.
Conny's New Bust Line

Canadian artist Conny Strub has added three new designs to her line of inline skating T-shirts: (1) Bust Line, (2) Finish Line, and (3) Blue Line.
All Articles Published by FIRS in 2004

An unofficial chronological index to all of the articles published on the Web site of the International Roller Sports Federation in 2004, plus links to all of their 2003 articles.
A Note from Kathie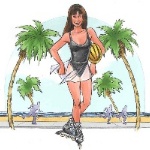 CHAT SUNDAY! Join me and other skaters every Sunday in the SkateLog Chat Room from 7-8 pm (19:00-20:00) Pacific Standard Time.
IF YOU PREFER A TEXT-ONLY NEWSLETTER, click on the "Update Your Profile" link at the bottom of this newsletter, and you will be connected to a Web page that will let you request text-only (with no photos or colors).
IF YOU WANT TO FORWARD THIS NEWSLETTER TO A FRIEND, you can use the "Forward Email" link at the bottom of the newsletter.