Hello Everybody! I hope you are all enjoying the new SKATING NEWS WEB LOG on the home page of SkateLog.com. The best way to encourage me to keep adding news to that page is to visit SkateLog.com frequently and tell all your friends about it. If the page views on my home page keep climbing I will feel inspired and challenged to seek out bigger and better and more interesting skating news for my Web Log! (please also tell me about your own skating news so I can add it to the log).
*****CALENDAR***** The calendar at SkateLog.com is filled with skating events, and I have many more to add. I will be focusing on that task this week, so if I have not listed your events, please let me know. *****COMING_SOON***** Reviews of new skating videos, Theresa Cliff Ryan's wedding photos, Sebastian Falk photo gallery, downhill cup updates from Sebastien Laffargue, a sad article about skating in Tahiti, a vintage photo of Dante and Tony Muse, article about the Australian Dobbin brothers, a backyard skating track in Canada, a complete history of speed roller skating, and much more! (so please forgive me if I cannot always respond to email quickly, and please DO keep sending it!)
Newsletter Contents


Who Are These Swiss Mystery Skaters?

I took these photos of some of the top male and female pro skaters in Switzerland at the 2002 and 2003 Inline Speed Skating World Championships in Belgium and Venezuela. The only problem is, I'm not 100% certain who they all are. Please - can someone help me identify these eleven Swiss skaters?

You want to hear another embarrassing story about me and the Swiss National Team? The first time I saw them in their skinsuits I thought they were from Denmark!!! I finally figured it out when I realized they were not speaking Danish (as any Swede or Finn or Norwegian can tell you - Danish is a *very* distinctive language).
ID Tags for Skaters and Runners

It is always a good idea to carry some kind of identification when you run, skate, or cycle, especially when you are out there alone. If you should happen to fall and perhaps even be rendered unconscious, you would want the people who find you to contact someone close to you, and you would also want them to know about your blood type, your allergies, and any special medical problems you might have. Here are 4 companies who make ID tags for skaters, runners, and other athletes.
Rolling Foundation is Coming to New York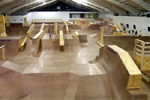 The second stop on the 2004 Rolling Foundation Competition Circuit (RFCC) will take place at the XDreams Skate Park in Rochester, New York May 14-15, 2004. The RFCC is an aggressive inline pro skater series organized by Fiction Clothing founder Chris Garrett, with judging led by Jon Elliott.
Congratulations to Finland and Sweden!
Finland and Sweden were the big winners at the 2004 Synchronized Ice Skating World Championships which took place this weekend (April 1-4) at the Dom Sportova Arena in Zagreb, Croatia.
A Note from Kathie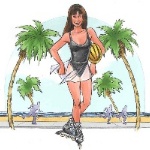 CHAT SUNDAY! Join me and other skaters every Sunday in the SkateLog Chat Room from 7-8 pm (19:00-20:00) Pacific Standard Time.
IF YOU PREFER A TEXT-ONLY NEWSLETTER, click on the "Update Your Profile" link at the bottom of this newsletter, and you will be connected to a Web page that will let you request text-only (with no photos or colors).
IF YOU WANT TO FORWARD THIS NEWSLETTER TO A FRIEND, you can use the "Forward Email" link at the bottom of the newsletter.