Hello Everybody!
I don't have much time for chit-chat this morning because I'm working on my TAXES today (ick), but I'm sending a newsletter anyway because I have several new articles to share. I will take a couple of breaks today, for skating and hosting my chat session tonight, so I hope to see all of you there - either on the Venice Beach Bicycle Trail this afternoon or in the SkateLog Chat Room tonight.
Congratulations to CECILIA BAENA of Colombia and MATTEO AMABILI of Italy for finishing in first place at the 2004 World Inline Cup Marathon Series season opener in Seoul Korea today (does anybody have a really nice photo of Matteo Amabili I can use to create a special bio page for him at SkateLog.com?)
Newsletter Contents


Skate on an Island in Korea (Photos)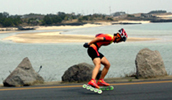 More than 800 skaters participated in the 2004 Jeju Island Inline Skating Marathon which took place March 14, 2004 on an island off the south coast of the Korean Peninsula. Here are some photos of skating on beautiful Jeju Island.
Happy Birthday to KC Boutiette

Olympic ice speed skater KC Boutiette of the United States was born on April 11, 1970 and his ice speed skating career begain in 1993 when he tried skating on ice as cross training for his career as an inline speed skater.
Safety Arm Bands for Skaters

These lighted safety arm bands can also be worn around the ankle and they are a good way to make yourself visible when you are skating, cycling, or running at night.
Boy Dies After Skating into Traffic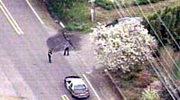 9 year old boy was tragically killed in North Plains Oregon USA last week when he skated into an intersection because he could not stop quickly enough at the bottom of a hill.
A Note from Kathie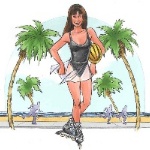 MY WEB LOG IS UPDATED EVERY DAY: Don't forget to check the home page of SkateLog.com every day for skating news, articles, and interesting tidbits from around the world. Please also send me your own skating news so I can add it to that page.

CHAT SUNDAY! Join me and other skaters every Sunday in the SkateLog Chat Room from 7-8 pm (19:00-20:00) Pacific Standard Time.

IF YOU PREFER A TEXT-ONLY NEWSLETTER, click on the "Update Your Profile" link at the bottom of this newsletter, and you will be connected to a Web page that will let you request text-only (with no photos or colors).

IF YOU WANT TO FORWARD THIS NEWSLETTER TO A FRIEND, you can use the "Forward Email" link at the bottom of the newsletter.