Hello Everybody!
I have not sent a newsletter for a while, and it's mostly because I have been so busy posting articles and news on the home page of SkateLog.com. That Web site is turning into into a daily newsletter with typically 5 or 10 new articles and interesting forum posts added every day when I am in town. I hope you will add SkateLog.com to the list of Web sites you check every day to see what's new, because I am working very hard to keep that page fun and fresh and interesting for my skating friends all over the world.
MY TRAVEL SCHEDULE: I am SO disappointed (and feeling very left out) because I had to miss the Inline Speed Skating World Championships in Italy this year due to budget and scheduling issues. To make up for that loss - and so I can still connect this year with the top pro speed skaters and coaches in the world - I will travel to Duluth Minnesota next week for the Northshore Inline Marathon. Look for me at the Bont Booth, where you can also meet Sara Bont herself and Bont North America's Glenn Koshi. I am also attending the Aggressive Inline Skating World Championships September 9-11 in Pomona, California, and one weekend of the Artistic Roller Skating World Championships in Fresno California in November, and the Monsters of Roll Tour at Camp Woodward West in October. I hope to meet many of you at some of those events. Please don't be shy about introducing yourself, because sometimes - around the top pro skaters - I am shy enough for both of us!
Newsletter Contents


Why My Photos Disappeared from the Web
A skater in our forum asked why many of my event and skating trip photos recently disappeared from the Web and they also asked if those photos are still available anywhere on the Internet. Here is how I answered that question...
Me Trail Skating with the President of FIRS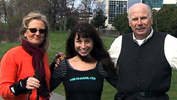 Here is a photo of me trying out TrailSkates in Seattle, Washington in 2001 with Isidro Oliveras, president of the International Roller Sports Federation and his wife Marisa. This was only my first meeting with President Oliveras and his wife, but we found that the three of us had many things in common. We became friends immediately!
Bearing Removal Tools

Here are some photos and information about three skate tools designed to accomplished the sometimes difficult task of removing the bearings from your skate wheels.
MY NEWEST WEB SITE: GmailUsers.com
On April 1, 2004 Google released a beta version of their new free Web-based email service that will give users 1 Gigabyte of storage space free. I am a beta tester of Gmail and my newest Web site - GmailUsers.com - is intended to be a hub of information for Gmail users all over the world.... kind of like SkateLog is for skaters.
A Note from Kathie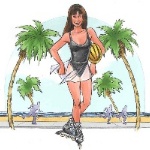 MY WEB LOG IS UPDATED EVERY DAY: Don't forget to check the home page of SkateLog.com every day for skating news, articles, and interesting tidbits from around the world. Please also send me your own skating news, or post it in our forum, so I can add it to the news log on my home page.

CHAT SUNDAY! Join me and other skaters every Sunday in the SkateLog Chat Room from 7-8 pm (19:00-20:00) Pacific Standard Time.

IF YOU PREFER A TEXT-ONLY NEWSLETTER, click on the "Update Your Profile" link at the bottom of this newsletter, and you will be connected to a Web page that will let you request text-only (with no photos or colors).

IF YOU WANT TO FORWARD THIS NEWSLETTER TO A FRIEND, you can use the "Forward Email" link at the bottom of the newsletter.