Hello Everybody!
Meet me next weekend at the Long Beach Inline Marathon in Southern California and the weekend after that at Chris Edwards Monsters of Roll Tour at Camp Woodward West in Tehachapi, California. In November I will be flying to Fresno, California TWICE so I can be there for the last two weekends of the Artistic Roller Skating World Championships.
That's one speed skating event, one aggressive skating event, and one artistic skating event. Something for everybody! I hope to meet many of you there.
Newsletter Contents


Theresa Cliff Ryan Skating for a Belgian Club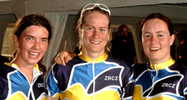 A heartwarming story of how a world-famous inline speed skating champion graciously came to the aid of two young skaters from Belgium at the 2004 Padova Grand Prix in Italy. We love you Theresa... and way to go Keshia and Tine!
Time to Start Planning Your Halloween Skate

Skaters at weekly group skates all over the world will dress up in costume on October 31 or sometime during that week. The most famous Halloween skates are in France, the Netherlands, Belgium, Germany, Lithuania, and the United States, but they also happen in many other countries. Here are some costume ideas for skaters, Halloween party recipes, decorating tips, photos of past Halloween skates (including my infamous SambaGirl costume) and many more resources to help you have the best Halloween skate ever!
Meet Vertical Roller Skater Brian Wainwright
Aggressive skating on quad roller skates is not something you see every day, but pro skater Brian Wainwright has been doing it for years. In this article Brian talks about how he got into aggressive skating on quads and he offers some tips for other skaters who want to try it.

You can meet Brian Wainwright, Fred Blood, and many of the other legends of vertical roller skating at Chris Edwards' "Monsters of Roll" tour at Camp Woodward West in Tehachapi, California on October 14-17. There is a comfortable lodge nearby called "The Lodge at Woodward West". The event will be filmed for television and some of the top inline and quad aggressive skaters in the world will be there. Contact the Lodge and Camp Woodward West for more information.
The Ultimate Skate Bag
This unique over-the-shoulder skate bag was designed by veteran U.S. speed skater Terry Holm, founder of the Brainerd Inline Half Marathon in Minnesota. The bag is unusual because it has one skate hanging in front of your body and one skate resting on your back. Terry tells me he can easily fit his skates, helmet, and all of his protective gear in this bag and still have room for plenty of personal items.
A Note from Kathie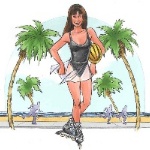 MY WEB LOG IS UPDATED EVERY DAY: Don't forget to check the home page of SkateLog.com every day for skating news, articles, and interesting tidbits from around the world. Please also send me your own skating news, or post it in our forum, so I can add it to the news log on my home page.

CHAT SUNDAY! Join me and other skaters every Sunday in the SkateLog Chat Room from 7-8 pm (19:00-20:00) Pacific Standard Time.

IF YOU PREFER A TEXT-ONLY NEWSLETTER, click on the "Update Your Profile" link at the bottom of this newsletter, and you will be connected to a Web page that will let you request text-only (with no photos or colors).

IF YOU WANT TO FORWARD THIS NEWSLETTER TO A FRIEND, you can use the "Forward Email" link at the bottom of the newsletter.