Hello Everybody!
The last week in November I will be at the artistic roller skating world championships in Fresno, California. During that time the annual congress of the International Roller Sports Federation will also take place in Fresno, so I am hoping I will have an opportunity to meet FIRS officials from many different countries. A SPECIAL NOTE TO NATIONAL FEDERATIONS AND ARTISTIC TEAMS: Please be sure to introduce yourselves at the Artistic Worlds. This will be my very first figure rollerskating world championships I am looking forward to meeting all of you!
Newsletter Contents


New Blake Dennis Photo Gallery

A brand new photo gallery at SkateLog.com with pictures of world class inline street skater Blake Dennis of Australia competing in many different events plus closeup portrait photos of Blake, pictures of Blake with his friends, and photos of special Blake Dennis skates and wheels manufactured by Roces and Senate.
Skating on the Island of Mallorca

Articles about inline skating on the Island of Mallorca by Daniel Edman of Sweden and Peter Nikkel of the Netherlands plus photos of skating in Mallorca and information about two speed skating workshops in Mallorca in May of 2004.
New Skater Bios at SkateLog.com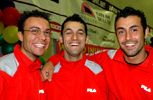 Some of the newest skater bios at SkateLog.com are for Wouter Hebbrecht of Belgium, Kelly Martinez of Colombia, Steve Robillard of Canada, Angele Vaudan, Baptiste Grandgirard, and Fabien Rabeau of France, Fabio Francolini, Francesco Zangarini, Luca Presti, Luca Saggiorato,and Massimiliano Presti of Italy, and U.S. skaters Alexandra Harris, Alicia Taggart, Kim Perkins, Maria Charnell, and Randy Bowman. Also, new updated photos have been added to the bio pages for Blake Dennis and Jorge Botero.
Recycle Your Skating T-Shirts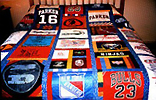 Are your closets filled with dozens of t-shirts from past skating events, but you still can't bear to throw any of them out? Here is a very special gift idea and a practical one too: Turn all those t-shirts into a beautiful memory quilt or wall hanging.
A Note from Kathie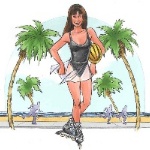 MY WEB LOG IS UPDATED EVERY DAY: Don't forget to check the home page of SkateLog.com every day for skating news, articles, and interesting tidbits from around the world. Please also send me your own skating news, or post it in our forum, so I can add it to the news log on my home page.

CHAT SUNDAY! Join me and other skaters every Sunday in the SkateLog Chat Room from 7-8 pm (19:00-20:00) Pacific Standard Time.

IF YOU PREFER A TEXT-ONLY NEWSLETTER, click on the "Update Your Profile" link at the bottom of this newsletter, and you will be connected to a Web page that will let you request text-only (with no photos or colors).

IF YOU WANT TO FORWARD THIS NEWSLETTER TO A FRIEND, you can use the "Forward Email" link at the bottom of the newsletter.