Hello Everybody!
I am writing to you from the 2004 Roller Figure Skating World Championships which are taking place Fresno, California November 17-28. This is the first Artistic Worlds I have attended and it has been a beautiful and exciting competition. The event will run through this Sunday, so between now and then I will be posting plenty of news and photos at SkateLog.com. I will also post news on Thursday or Friday about the outcome of the controversial FIRS/Catalonia issue everyone is talking about here at the FIRS Artistic Worlds.
Newsletter Contents


Will the President of FIRS Resign This Week?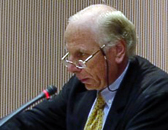 I have heard rumors that Isidro Oliveras, the president of the International Roller Sports Federation, will resign this week if the FIRS Executive Committee does not accept the Catalonian Federation as a full member of FIRS. Those rumors are not confirmed but...
Photos and Results from the Artistic Worlds

Results, photos, reports, and articles about the 2004 Roller Figure Skating World Championships taking place right now in Fresno, Californial. The competition is taking place November 17-27 and there will be a spectacular "Show of Champions" on Sunday, November 28.
Skating Nurses at the World Championships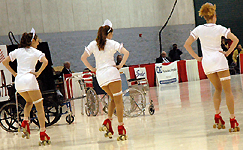 These three cute nurses were a big hit at the show skating competition of the Artistic World Championships in Fresno where they were part of a Glendale Skating Club production number called "Viva La Viagra".
What I am Reading Right Now... Rolaboi!

In between events at the Artistic World Championships this week I am reading the brand new autobiographical book by inline figure skating world champion Jayson Sutcliffe of Australia called "Rolaboi: Renegade Skater". This is a very personal book filled with Jayson's most intimate feelings, plenty of tell-all insider stories about the international world of competitive artistic roller skating, and super-hot photos of Jayson himself
A Note from Kathie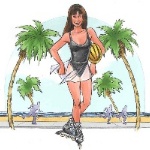 MY WEB LOG IS UPDATED EVERY DAY: Don't forget to check the home page of SkateLog.com every day for skating news, articles, and interesting tidbits from around the world. Please also send me your own skating news, or post it in our forum, so I can add it to the news log on my home page.

CHAT SUNDAY! Join me and other skaters every Sunday in the SkateLog Chat Room from 7-8 pm (19:00-20:00) Pacific Standard Time.

IF YOU PREFER A TEXT-ONLY NEWSLETTER, click on the "Update Your Profile" link at the bottom of this newsletter, and you will be connected to a Web page that will let you request text-only (with no photos or colors).

IF YOU WANT TO FORWARD THIS NEWSLETTER TO A FRIEND, you can use the "Forward Email" link at the bottom of the newsletter.