Hello Everybody!
I hope all of you are having an enjoyable holiday season, and to help you get through the shopping part of it more easily, I have included in this newsletter some "Gift Ideas for Skaters" with gift suggestions for aggressive, artistic, fitness, recreational, and speed skaters, plus gift ideas for kids who skate, beginning skaters, and gifts with a safe-skating theme (gift guide links are located in the bottom right section of this newsletter)
ABOUT TONIGHT'S CHAT: I can't make our chat tonight because I need to finish my holiday shopping so I can mail off gifts to my family who (as most of you know) are scattered in different parts of the world and who (this is for them) I love dearly even though we are not able to see each other nearly as often as we would like. Happy Holidays to my family and friends and to skaters all over the world in very country!!!
Newsletter Contents


New Artistic World Champions - A Photo Gallery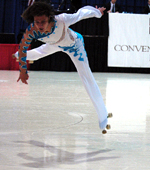 Photos of the magnificent Luca D'Alisera and Tanja Romano of Italy, plus pictures of many more of the 2004 Artistic Champions, including Men, Women, Pairs, Dance, Precision, and Show Skating World Champions.
Polish Man Skates 3000 Miles to Microsoft
Polish inline skater Krzysztof Dzienniak arrived at Microsoft World Headquarters this week after skating 3000 miles across the United States in an effort to raise money to cover the medical expenses of two young girls in Warsaw. Here is an article, 6 photos, and a quote from Microsoft management about Krzysztof's inline skating journey across the United States
Rollerblade and Zephyr Join Forces

In December of 2004 Zephyr Inline Skate Tours and Rollerblade® signed a cooperative agreement to increase participation in the sport of inline skating by organizing a series of 5-day beginner camps and offering free lessons to inline skating beginners (pictured on the right is Zephyr Skate Tours owner Allan Wright).
Winter X Games Schedule and Athletes

Articles, news, and information about the 2005 Winter X Games in Snowmass, Colorado January 27 through February 1 including sports, athletes, schedules, volunteer program, and facts about the Aspen and Snowmass area.
A Note from Kathie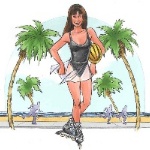 MY WEB LOG IS UPDATED EVERY DAY: Don't forget to check the home page of SkateLog.com every day for skating news, articles, and interesting tidbits from around the world. Please also send me your own skating news, or post it in our forum, so I can add it to the news log on my home page.

CHAT SUNDAY! Join me and other skaters every Sunday in the SkateLog Chat Room from 7-8 pm (19:00-20:00) Pacific Standard Time.

IF YOU PREFER A TEXT-ONLY NEWSLETTER, click on the "Update Your Profile" link at the bottom of this newsletter, and you will be connected to a Web page that will let you request text-only (with no photos or colors).

IF YOU WANT TO FORWARD THIS NEWSLETTER TO A FRIEND, you can use the "Forward Email" link at the bottom of the newsletter.