Hello Everybody!
MEET ME AT GOLD SKATE: February 19 and 20 I will be at the 39th Annual GoldSkate Show Skating Competition in Fresno, California USA. For more information visit SkaterBill.com and select "GoldSkate".
TALK ABOUT SKATING IN OUR FORUM: Discuss any skating topic and make new friends from around the world in our active international forum. In addition to our main forum, we have special sub-forums for aggressive, artistic, hockey, roller dancing, speed, and quad roller skating. Everybody can read the messages in our forum but you will need to sign up for a free user name to reply to a message or start a new discussion. We encourage you to use our forum to announce your events, share skating news, ask a question, or start a discussion about any skating topic. The SkateLog Forum is located at AskAboutSkating.com. TO SEE ALL OF MY RECENT SKATING ARTICLES AND PHOTOS: Select "Articles" from the menu in the light gray bar at the top of every page at SkateLog.com.
Newsletter Contents


Extreme Downhill Ice Skating in Prague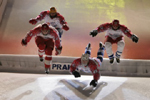 In January there was an extreme downhill ice skating competition in the Czech Republic city of Prague. The event was sponsored by Red Bull and the top 3 finishers were from Sweden, the Czech Republic, and Austria. Here is a report and 22 exciting photos.
Why Valerie Leftwich is Not Running for FIRS President

Why Oceania Roller Sports Confederation president Valerie Leftwich is running for 1st Vice President of the International Roller Sports Federation (FIRS) instead of president, and who she has publicly endorsed for the position of president. (Pictured on the right are FIRS Speed President Roberto Marotta, Valerie Leftwich, and Inline Hockey President George Pickard.)
Asian X Games Are Moving to Korea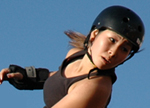 In 2005 the Asian X Games will move from Malaysia to South Korea, and the competitions will include inline skating, skateboarding, BMX stunt bike, climbing, and wakeboarding. Motocross will also be included, but only as a demonstration sport (Pictured on the left is Japanese female champion Ayumi Kawasai).
2005 Wall Calendar of Artistic World Champions

Italian photographer Raniero Corbelletti was the official photographer for the 2001, 2003, and 2004 Artistic Roller Skating World Championships, and he has just released a 2005 wall calendar with 12 beautiful photos of world class roller figure skating men, women, pairs, and dance teams (Pictured on the right are gorgeous and talented bother and sister dance team Gabriele and Enrica Gasparini of Italy, who were an absolute joy to watch at the 2004 Artistic World Championships)
A Note from Kathie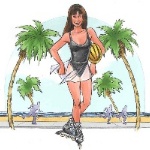 MY WEB LOG IS UPDATED EVERY DAY: Don't forget to check the home page of SkateLog.com every day for skating news, articles, and interesting tidbits from around the world. Please also send me your own skating news, or post it in our forum, so I can add it to the news log on my home page.

CHAT SUNDAY! Join me and other skaters every Sunday in the SkateLog Chat Room from 7-8 pm (19:00-20:00) Pacific Standard Time.

IF YOU PREFER A TEXT-ONLY NEWSLETTER, click on the "Update Your Profile" link at the bottom of this newsletter, and you will be connected to a Web page that will let you request text-only (with no photos or colors).

IF YOU WANT TO FORWARD THIS NEWSLETTER TO A FRIEND, you can use the "Forward Email" link at the bottom of the newsletter.