Hello Everybody!
I haven't sent a newsletter for a while because I have been updating the home page of SkateLog.com every day, but I am planning to start sending it again, and often future newsletters will have a theme. This week our newsletter is all about skating in Mexico!
MY TRAVEL SCHEDULE THIS YEAR: I am still developing my travel schedule for 2005 but you can meet me for sure at the (1) 2005 Summer X Games in Los Angeles California, (2) the last weekend of the August 2005 Rink Hockey World Championships in San Jose California, (3) the September ASA aggressive inline event in Sacramento, California, (4) the October 2005 Long Beach Inline` Marathon in California, (5) the November 2005 Artistic Roller Skating World Championships in Rome, Italy and probably many other events as well.
Newsletter Contents


The Mexico City to Cuernavaca Bicycle Trail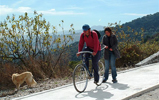 This 40 mile paved bicycle trail along an abandoned train track bed in Mexico will eventually connect Mexico City with Cuernavaca. When the last segment is built the trail will stretch 80 miles between the two cities.
Photos of Mexican Artistic Roller Skaters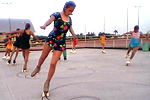 Pictures of Mexican artistic roller skaters practicing and competing at the 2004 World Championships and at other artistic roller skating events inside and outside of Mexico.
A Skating Track and Roller Rink in Mexico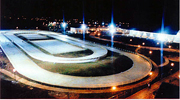 This roller skating rink and inline speed skating track in the Yucatan region of Mexico is used by members of the Mexican National Artistic Roller Skating Team for many of their practice sessions.
Skate 50 Miles from Rosarito to Ensenada

Twice a year thousands of cyclists participate in a 50 mile fun roll from the Mexican beach resort of Rosarito to the seaport town of Ensenada in northern Baja Mexico. Here are two stories by skaters who tried skating that event. You can try it yourself on September 24, 2005!
Visit Our 10 Skating Forums

Join our active international skating community by visiting the SkateLog Forum, where more then 8900 messages from 1500 skaters have been posted.

We now have 10 different forums each covering a separate topic, including aggressive, artistic, hockey, quad skating, slalom, speed, roller dancing, roller basketball, rollersoccer, roller derby, and a main forum for general skating discussions.