Roller Derby Books
Roller Derby Videos
---
ESPN Launches Volunteer Program for 2005 Winter X Game
In November of 2004 ESPN announced their search for volunteers willing to assist at the 2005 Winter X Games in Snowmass/Aspen, Colorado
ESPN ANNOUNCES LAUNCH OF VOLUNTEER PROGRAM FOR WINTER X GAMES NINE IN ASPEN/SNOWMASS

Registration begins November 15 at XGamesVolunteers.com.


ASPEN, Colorado - ESPN's Winter X Games, the world's premier winter action sports event, launches its volunteer drive for Winter X Games Nine in Aspen/Snowmass, Colo. Now entering its fourth year in Aspen, Winter X Games Nine will be held January 29 through February 1, 2005. ESPN staff seeks dedicated action sports fans as well as newcomers to cover the more than 700 volunteer positions for the overall event.

Winter X Games staff is looking to the local and regional communities for people who are willing to volunteer for a full day at this multi-event action sports competition. Several daylong volunteer positions are available including: hospitality, crowd control, ushering, access control and credential checking. Positions are available from January 27 through February 1, 2005. Winter X Games also offers the XCEL program, designed for dedicated individuals who are willing to volunteer every day from 9 a.m. to 9 p.m., January 27 through February 1.

Interested people for the Winter X Games volunteer program must be 18 years of age by January 25, 2005. Starting November 15, 2004, the XGamesVolunteers.com website is currently accepting applications for all volunteers. All applications are processed on a first come basis.

"We have thousands of spectators, special guests and media that visit the Winter X Games and we look to the volunteers to assist with maintaining a positive and friendly environment for everyone in attendance," said Sharon Walsh, Manager of Volunteer Services. "Going into our fourth year in Aspen, we anticipate a great number of returning volunteers while looking forward to all the new and talented groups of people that will join our team."

The primary function of a volunteer is to assist the spectators and credentialed guests during the event. Volunteers are expected to be proactive, helpful and knowledgeable hosts to spectators during their visit at the Winter X Games.

Volunteers will be privy to Winter X Games Nine apparel, sponsor goody bags, snacks and refreshments and will also receive an invitation to the private Winter X Games volunteer appreciation party. XCEL volunteers who make themselves available for the duration of the event will receive a Winter X Games Nine token of appreciation.

In addition, volunteers take part in a daily raffle of items donated by local and industry businesses. Businesses that donate items to be entered into the volunteer raffle will gain exposure by having their company name included on the volunteer website and the on-site jumbotron at Winter X Games Nine. Local business can download the donation form at XGamesVolunteers.com.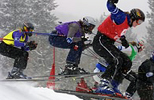 ---
Related Links
2005 Winter X Games - Photos
2005 Winter X Games - Results
2005 Winter X Games - Reports
2005 Winter X Games - Main Menu
All X Games Since 1995
---
Skating in Africa | Skating in Asia | Skating in Europe | Skating in Oceania | Skating in The Americas
Inline Skate Shop
Roller Skate Shop