United States ice and inline figure skater, and author of the book "How to Jump and Spin on Inline Skates" Jo Ann Schneider Farris talks about how she and her family felt in April of 2004 when the Bosanova Roller Skating Center in Colorado closed its doors for the last time.


The Bosanova Roller Skaging Rink Closed in 2004
FROM JO ANN SCHNIEDER FARRIS IN APRIL OF 2004


"Today, Bosanova Roller Skating Center in Colorado Springs closed.

My family weeps silently inside. We feel we have lost a loved one.

I believe Bosanova has been open for more than 30 (or perhaps 40) years.

My love of this little roller rink with a real maple floor and the family that owned it began over 10 years ago.

My first child was still in a stroller and I had just purchased "The Pic," an attachment Roller Stop (now The Pic Skate Company) had invented that attached to any in-line skate. I attached "The Pic" to my original Rollerblades (3 wheels in fact!) and wanted to try them in a roller rink for safety sake since I was pretty nervous trying moves I did on ice in rough Colorado parking lots.

I asked Bosanova's owners if I could perhaps push my stroller in the rink, and the answer was yes!

So off to Bosanova I went and experimented with in-line figure skating.

Then, to my joy, the Pic Skate was invented and in 1995 or 1996, around the birth of my 2nd child, I showed up at Bosanova on weekends wearing the Pic Skate and trying more figure skating moves.

The rink manager was so intrigued with my Pic Skates that he asked me to help during learn to skate classes. It was an entirely new thing for me, an ice skating coach, to teach roller skating, but I learned so much!

As time went on, I wrote HOW TO JUMP AND SPIN ON IN-LINE SKATES. Everything in the book and how to do it was "figured out" while I skated at Bosanova.

My entire family, excluding my son, wears Pic Skates now, and have skated at Bosanova weekly. My daughters both are just getting spins and simple jumps down in Pic Skates. We now will have to go to a roller rink with a wood floor that is in Pueblo, Colorado to continue experimenting on our skates.

I know my children will always remember their childhood of skating, being pushed in the stroller, and being a part of the Bosanova Roller Skating Center.

Yes, we are sad today."
~ Jo Ann Schneider Farris


---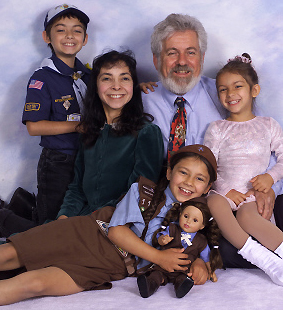 Jo Ann with her husband and three children, Joel, Rebekah, and Annabelle
Copyright © Jo Ann Schnieder Farris
---



Related Links


Jumping and Spinning with Jo Ann (Profile of Jo Ann at About.com)
Jo Ann Schnieder Farris - Official Web Site (Jumpspin.com)
Jo Ann's "Jump and Spin" Book at Amazon.com