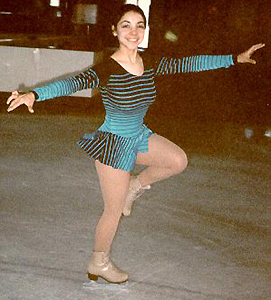 About Jo Ann Schneider Farris


Jo Ann began ice skating in 1964 in Southern California. In 1975, she won a silver medal at the United States National Figure Skating Championships with her dance partner, Richard Griffin. In 1976 she earned her United States Figure Skating Association (USFSA) Gold Medal.

In the 1980's, she and her husband Dan purchased some of the first inline skates produced by Rollerblade, and in 1995, when the Pic artistic skate frame was developed, she mounted Pic Frames on a pair of Harlick Boots and began learning to do artistic figures on inline skates. Since then, she has been developing methods and instructions for reproducing all of the artistic ice skating movements on inline skates. In 1999, she produced the first edition of her book, "How to Jump and Spin on Inline Skates". In August of 2006 About.com hired Jo Ann to be the editor of their ice figure skating Web site at figureskating.about.com.



Jo Ann at 15

with partner
Richard Griffin

Winning the
1975 Silver
---



Jo Ann's Family Legacy of Skating


Jo Ann's father,

Dr. Arthur Schneider

, is currently a United States Figure Skating Association Judge in the Chicago area. He proposed to her Mother at Iceland, a skating rink in Paramount California owned by the famous Zamboni family.

Her sister

Lynnellen

was one of the most outstanding skaters in Compulsory School Figures in Southern California in the 1960s and 1970s.

Her brother

Billy

was the youngest skater in the US National Championships in 1970. He began coaching skating in 1980, and since then, he has trained numerous National champions and is a Master Rated Coach with the Professional Skaters Association.



Jo Ann &
her Father



Sister
Lynnellen



Brother
Billy



Lynnellen,
Billy, Jo Ann
---



The Next Generation


Jo Ann lives in Colorado Springs with Dan, her husband of almost 30 years, and their three children Joel, Rebekah and Annabelle. Rebekah and Joel Schnieder-Farris compete as a brother and sister ice dancing and pairs figure skating team. Jo Ann has teaching credential from the State of California and she is the editor of About.com's About Figure Skating Web site. For more information about Jo Ann and her family visit Jo Ann's JumpSpin.com Web site and the Dan Farris Tragedy and Triumph Blog.


---



Jo Ann's Book:

How to Jump and Spin on Inline Skates

Buy Jo Ann's Book at Amazon.com



Jo Ann's book "How to Jump and Spin on Inline Skates", explains how to do artistic figure skating movements on inline skates. Important Note: The instructions in this book assume that the skater is wearing an inline skate with a "toe pick" (rubber stopping device) mounted on the FRONT of the skate.

The book has a nice introduction to inline figure skates, and a glossary of artistic skating terms. The rest of the book is devoted to detailed instructions for performing many different artistic movements, with extra attention given to spinning and jumping techniques. I found the instructions a bit daunting, but that's probably because I'm a fitness and recreational skater with absolutely no background in artistic skating. Someone with my level of (lack of!) experience would definitely want to use the book as a supplement to skating lessons from a professional instructor.

Jo Ann's book is available at Amazon.com and it can be ordered from any bookstore.




Author
Jo Ann Schneider Farris


Illustrator
Larisa Gendernalik
---




What People Are Saying About the Book:



From Liz Miller, well-known California skating instructor and author of the books "Get Rolling", "Advanced Inline Skating" and "California Inline Skating".
"Jo Ann has a warm, encouraging and very enthusiastic writing style, and she delivers what the book's title promises: information about the inline figure skating discipline, gear, and moves. The gear section and glossary are also useful."
From John Petell, President of Harmony Sports:
"Jo Ann's book is a giant step toward exposing the fine sport of inline freestyle skating, with its many and wonderous movements, to the public.
From Nick Perna, National and International figure skating coach and co-inventor of the Pic-Frame skate:
"This book is well written and extremely thorough for this type of instruction. I think just about anybody who is interested in inline figure skating techniques will be able to learn something new from this book. I hope someone in the future will do an instructional video based on the book!"
---



Jo Ann's Book


- How to Jump and Spin on Inline Skates



Jo Ann's Web Sites


- FigureSkating.about.com (About.com)
- JumpSpin.com (Jo Ann's personal site)
- International Inline Figure Skating Associatioin (founded by Jo Ann)